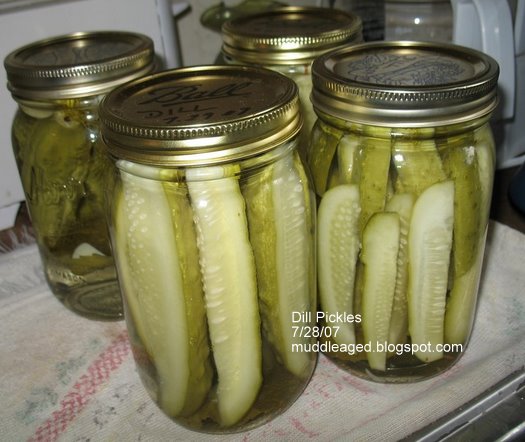 These were incredibly easy to make and because they are refrigerator pickles, there was no processing involved. I cut mine into quarters, but you can leave them whole if you like. You are supposed to keep them for 10 days before opening them. I've been staring at those jars of pickles every time I open the refrigerator, daring me to open them. I decided in the interests of journalistic reporting, that it was time to crack open a jar and actually taste them before I wrote this post on them. At least, that's my story. I am happy to say, that they are quite delicious. I cut the amount of sugar in the recipe by half and I think I would cut it back a bit more, because they were a little bit sweet for my taste. Other than that, they have a great crunch, a fresh cucumber taste, with a bit of heat that stays on your tongue.


Make Chef Mayra's Spicy Dill Pickles
12 pickling cucumbers
2 cups water
1 3/4 cups distilled white vinegar
1 ½ cups packed coarsely chopped fresh dill
½ cup sugar
8 garlic cloves, chopped
1 ½ tablespoons coarse salt
1 tablespoon pickling spice
1 ½ teaspoons dill seeds
½ teaspoon dried crushed red pepper
Combine all ingredients except dill sprigs in large bowl. Stir, let stand at room temperature 2 hours until sugar and salt dissolve.


Place a few dill sprigs in each jar. Transfer 4 cucumbers to each of three 1 ½-pint wide-mouth jars. Pour pickling mixture over to cover. Cover jars with lids and close tightly. Refrigerate at least 10 days. Pickles will stay fresh for up to 1 month. Keep refrigerated.
Yummy Soup ~ Lots of protein here folk!
I got some Red Russian Kale at the Farmers' Market last winter where the pickings were pretty slim. This kale was very nice, not as hard as most kale, so it cooked fairly quickly. With the home made croutons and a bit of Vegan Soy Parmesan cheese grated on top, it was a perfect soup.
Also You can add Chickpeas, Navy Beans, Kidney Beans. Add more and more protein more vitamins. Carrots, Potatoes, Taro, Sweet potatoes, Soup is endless. Great Soup to go !
Cannellini and Kale Soup
Serving Suggestion

6 tablespoons extra-virgin olive oil, divided
4 1 ½-inch-thick slices Italian bread, crusts removed, each slice quartered
3 garlic cloves, finely chopped
¼ teaspoon dried crushed red pepper
5 cups (packed) thinly sliced kale (about 1 large bunch)
2 cups vegetable stock
1 14 ½-ounce can tomatoes, diced Or 10 Fresh Roma Tomatoes
1 15-ounce can organic cannellini beans, drained and rinsed
Heat 2 tablespoons oil in heavy large pot over medium-high heat. Add bread and cook until bread is golden on both sides, turning with tongs, about 2 minutes total. Transfer croutons to bowl; sprinkle with salt and pepper.


Add remaining 4 tablespoons oil, garlic, and crushed red pepper to same pot; sauté over medium heat 30 seconds. Add kale and broth; bring to boil. Reduce heat to medium-low, cover, and simmer until kale wilts, about 5 minutes.


Add tomatoes with juice, beans, and remaining 1 tablespoon thyme. Cover and simmer 15 minutes. Season with salt and pepper. Ladle ragout into shallow bowls. Top with croutons and serve.